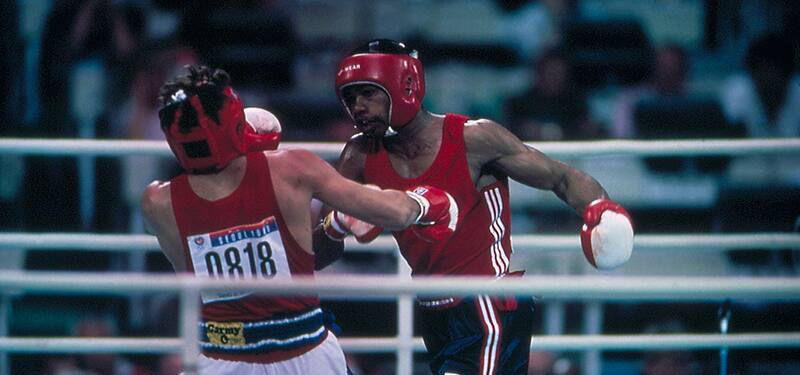 Living legend Roy Jones, Jr., universally recognized as one of the greatest pound-for-pound boxers of all-time, leads a celebrated quintet of Class of 2018 inductees into the USA Boxing Alumni Association Hall of Fame.
The second annual USA Boxing Alumni Association Hall of Fame reception, held in conjunction with the 2018 USA Boxing Elite and Youth National Championships and Junior and Prep Open, December 2-8, will be held Dec. 7, at the Radisson Hotel (215 S. Temple St.) in Salk Lake City, Utah.
In addition to Jones, the Class of 2018 also includes two U.S. Olympic gold medalists and world (professional) champions, Andre Ward and Claressa Shields, as well as former USA Boxing National Director of Coaching Emanuel Steward and veteran USA Boxing official Tom Cleary. The latter two will be posthumously inducted.
The charter class inducted last year included Muhammad Ali and Evander Holyfield, as well as veteran coaches Roosevelt Sanders and Tom Coulter.
"I am honored to be selected for induction into the USA Boxing Alumni Association Hall of Fame," Jones commented, "especially as a member of this great class with my fellow inductees.
"Amateur boxing gave me the chance to learn life skills as well as face every other possible scenario inside of the ring."
Jones, ironically, got into boxing at the age of 11 because of Ali. "I saw Ali vs. (Joe) Frazier and just felt as though Ali and I had the same mental concept on life," Jones explained.
Jones went on to become one of the best amateur boxers in the world, compiling a reported 121-13 record, including gold medal performances at the 1984 National Junior Olympics and 1986 & 1987 National Golden Gloves Tournaments.
At the 1988 Olympics in Seoul, South Korea, Jones reached the championship final of the light middleweight division against Park Si-Hun, of South Korea. Jones suffered arguably the worst decision in boxing history, losing 3-2, despite outpunching his opponent, 86 to 32 landed punches, and he was forced to settle for a silver medal. Even his opponent admitted that Jones won their fight, leading the AIBA to later suspend the three judges who selected the hometown fighter as the winner.
How disgraceful was this decision? Jones was selected as the Val Barker Trophy winner as the best boxer of the 1988 Olympics and, due to controversy, the scoring system for Olympic boxing was changed, replacing the 20-point must system with electronic scoring.
"I was angered," Jones admitted, "yet promoted to prove that I was the best fighter there, and in the world, at that time."
Jones made his professional debut May 6, 1989, at home in Pensacola, Florida, in a scheduled eight-round bout, in which RJJ stopped Ricky Randall in the second round. His long, glorious journey has produced a remarkable 66-9 (47 KOs) pro record, highlighted by nine major world titles in four different weight classes.
In 2003, Jones defeated John Ruiz by way of a 12-round unanimous decision to become the first former world middleweight champion to become world heavyweight title holder in more than a century.
The possessor of exceptional hand and foot speed, athleticism, movement and reflexes, Jones went undefeated through his first 34 pro fights, 22-3 (14) in world title fights. Against former, present or future world champions, Jones was 19-9 (8 KOs) and included among his victims were greats such as Bernard Hopkins, James Toney, Mike McCallum, Vinnie Pazienza, Virgil Hill, Antonio Tarver and Felix Trinidad.
Today, the 49-year-old Jones, technically speaking, is still an active fighter. He also has two promotional companies and gyms, located in Pensacola and Las Vegas, trains several pro boxers and serves as a color commentator for HBO Boxing. He recently opened gyms in South Africa.
For the past two years, Jones has hosted the "Future Stars of Boxing Tournament" in Las Vegas, showcasing some of the best amateur boxers in the world.
"Hosting the tournament in Las Vegas gives me the opportunity to give back to amateur boxing," Jones explained. "It's a great experience for the boxers and it reminds them that who they may have or still look up to, are watching them as well."
"When USA Boxing alumni discuss their favorite fighters," said Chris Cugliari, USA Boxing Alumni Association Executive Director, "Roy Jones is near the top of everyone's list. His spectacular talent, dedication to his craft, and infectious personality make him a no-brainer to headline this year's Hall of Fame class. He continues to give back to amateur boxing and support the next generation. Roy deserves to be celebrated for all he has accomplished, and we look forward to honoring him in December."
Created to champion a lifelong, mutually beneficial relations between USA Boxing and its alumni, --boxers, officials, coaches and boxing fans -- the Alumni Association connects generations of champions, inspiring and giving back to USA Boxing's future boxing champions, in and out of the ring.
The USA Boxing Alumni Association is open to anyone who has a love for boxing and would like to stay connected with amateur boxing. Members are granted access to a wide variety of special events host by the Alumni Association, including the USA Boxing Alumni Association Hall of Fame reception.
To join the Alumni Association, simply register at alumni@usaboxing.org for a $40.00 per year membership fee. New members will receive a T-shirt, keychain and e-wallet.
If he ever hangs-up his gloves for good, Roy Jones, Jr. will be a first ballot inductee into the International Boxing Hall of Fame. There may never be another boxer quite like RJJ.